Have you decided to start your personal style journey but not sure where to begin? You probably don't want to start with the expensive brands just yet, because you still need to figure out what your tastes are. When you're first embarking on this adventure, stick with the cheaper brands. That way you won't suffer too much regret when you inevitably buy something you only wear once.
Trust me, I have so many items in my wardrobe that I regret buying, and the only peace I have is that I barely spent much money on them. You'd be surprised how much you can learn about yourself when buying something you end up hating! Valuable lessons at an affordable price.
Here are the best affordable clothing brands for men, ranked. I'm only including brands that offer a wide range of apparel, rather than brands that specialize in a specific type.

Uniqlo is, bar none, the best clothing brand for men who are just starting to learn about style. It provides the perfect intersection of quality and stylishness at an extremely affordable price, without being too "out there." This Japanese brand is all about clean, minimal, flattering looks and offers everything from shirts to pants, from basic essentials to outerwear.
Check out our video of when we took Dave to Uniqlo to upgrade his style.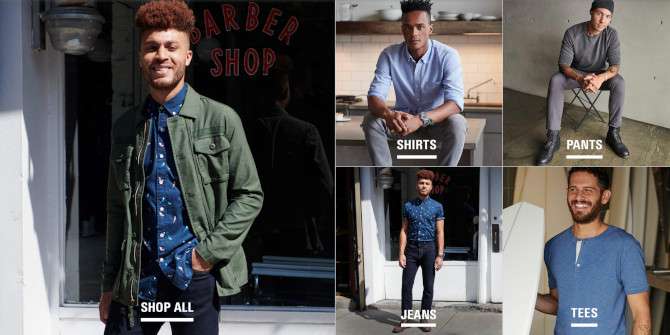 Goodthreads is Amazon's in-house fashion brand for men and women who are both style-conscious and budget-conscious. You'll find all kinds of clothing items that cater to both slim-fit and standard-fit wearers, and Goodthreads offers pretty much everything: shirts, jeans, pants, sweaters, and even jackets. It's a strong alternative to Uniqlo if your tastes lean more towards American.

Target has an extremely affordable in-house brand of fashionable apparel for men, and it's called Goodfellow & Co. You can find shirts for under $20, chinos for under $30, and blazers for under $50—or even less if you can catch a sale. Their t-shirts, undershirts, and socks are also quite nice. And for those of you who are on the bigger side, the Big & Tall category helps you stay stylish regardless of your size.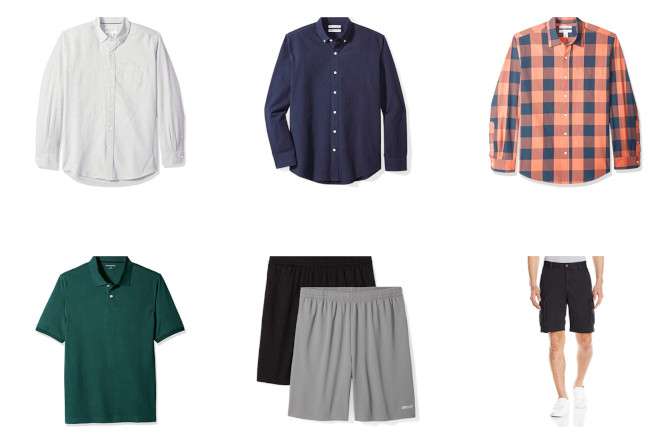 Leave it to Amazon to churn out acceptable quality apparel that anyone can afford. The only brand I can think of that's cheaper than this is Primark. The drawback to shopping Amazon Essentials? Everything is super basic, bland, and even boring. But that's fine, because Amazon Essentials is there to help you start and build up the fundamentals of your wardrobe. Once that's done, you can slowly replace each piece with another brand of better quality.
While Levi's is a great place to go for jeans and chinos of satisfactory quality, I tend to avoid everything else. Jeans and chinos retail for between $40 and $60, but you can save quite a bit if you wait around for a seasonal sale to knock off 40% to 50% of the price. Note that Levi's has inconsistent quality control when it comes to sizing, so you'll want to visit a brick-and-mortar store and physically try a pair on before you buy.
Check out our guide to Levi's jean fits and styles.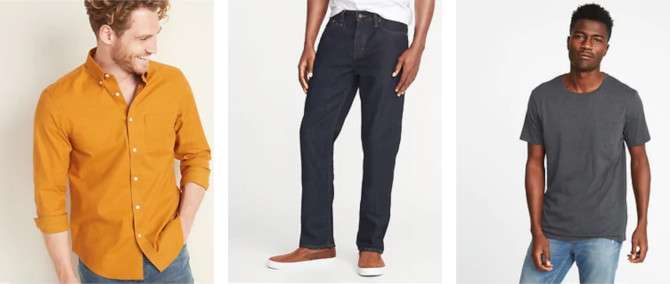 Gap has decent quality apparel at decent prices, but if you're on a budget, you'll want to wait until they have some big sales (e.g. Black Friday, Memorial Day, etc) before you buy anything there. Old Navy is Gap's cheaper counterpart, owned by the same company. Not great for fit if you're on the smaller side like I am, but you can find some stylish choices here every so often. Old Navy's peacoats in particular are pretty nice as entry-level outerwear.
If you want to go up another step, Banana Republic is the higher-end version of Gap.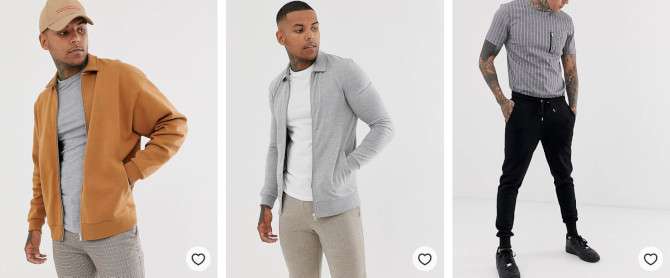 ASOS is interesting in that it's an online retailer that has its own branded products and also sells many other brands as well. I've personally only bought slim-fit chinos from ASOS, which were actually quite nice for the low price of $25. The site has a mixture of conservative and wild designs, although the overall fit tends to be slimmer and fashion-forward.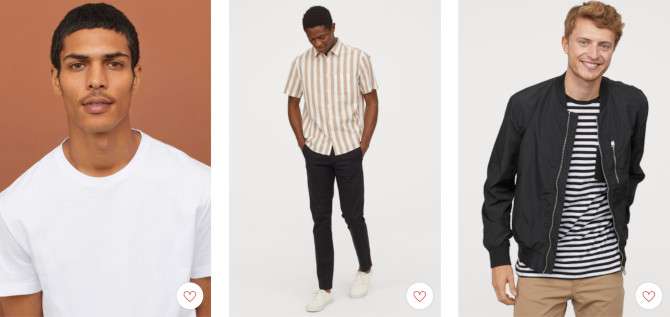 H&M used to be the cheapest fast fashion brand around before it was dethroned by Primark. Still, it's worth shopping here if you want to try out new styles for cheap, with items that are slightly better quality than what's offered at Primark. Note that H&M's L.O.G.G collection tends to be higher quality but also slightly more expensive. I have some L.O.G.G. stuff that I've been wearing for over five years, so it'll last if you take care of it.

It doesn't get cheaper than Primark. This huge department store is difficult to navigate, but that's a small price to pay when you can get jeans for $15, button-up shirts for $10, and a five-pack of socks for $6. The quality is mostly crap—you get what you pay for—but Primark is all about fast fashion on a budget, and it's a great way to try out a new look for yourself without spending much at all.