When you wake up the morning, the first thing you ask yourself is: "What should I wear today?" You look inside your closet, only to find clothes that don't even want to lay eyes on. Your closet could definitely use some refreshing!
Finding outfit inspiration can bring life back to your wardrobe. If you can't find any ideas in the world around you, check out these websites for plenty of outfit ideas and inspiration.
Outfit Ideas for Women
Women have an abundance of fashion sites to choose from. The following websites make picking out your next outfit super easy. Now you can feel confident knowing that your outfit looks trendy!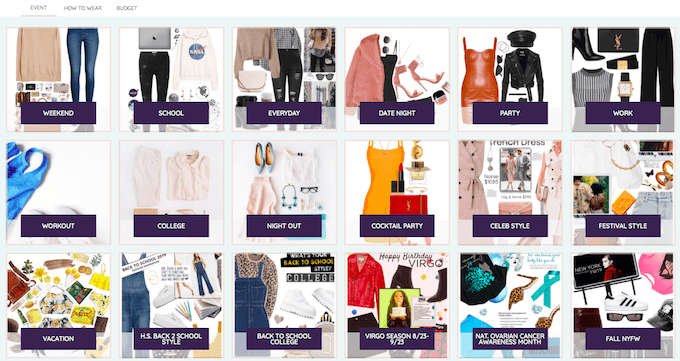 Since Polyvore's unexpected shutdown in 2018, ShopLook has become the next best alternative. ShopLook features hundreds of outfit ideas created by other users.
Click on the Discover tab on the main menu to view several clothing categories and the outfits that go along with it. You can choose from party outfits, everyday style, weekend wear, and much more. Once you find a look you like, you can buy the outfit directly from ShopLook.
The site also allows you to discover outfit ideas based on one article of clothing. Don't know what to wear with Converse sneakers? Searching for "Converse" gives you tons of outfits that include these iconic sneakers.
If you want to do a little experimenting, sign up for the website to start creating your own outfits. You can use dozens of stylish pieces to build new looks.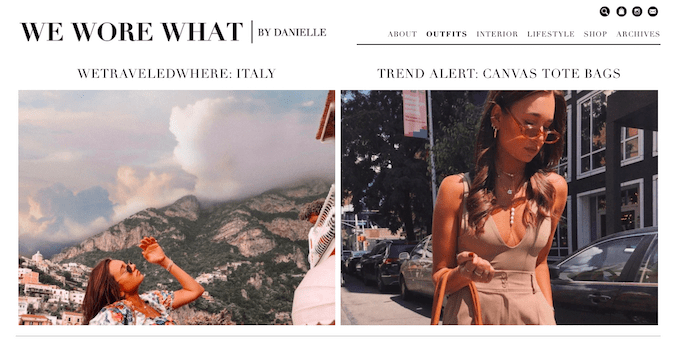 We Wore What is a blog run by fashion influencer, Danielle Bernstein. Just scrolling through all of her posts and looking at the pictures is enough to give you some ideas for your next outfit.
Her posts are relatively short, but informative. At the bottom of each post, you'll find a carousel of the specific clothing item she featured in the post. Clicking on one of the products will bring you to a store page. Although some of the products she includes are very expensive, she often includes budget-friendly options as well.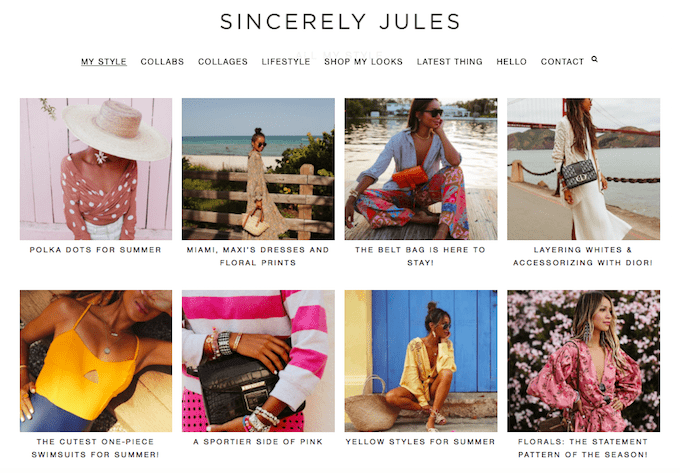 Aspiring fashionista, Julie Sarinana, created Sincerely Jules in 2009, and it has since grown into a major source for outfit inspiration. The My Style section of her blog contains hundreds of fashion-forward styles for just about any season or occasion. You'll find posts on bathing suits, floral patterns, summer sneakers, and a ton of other trends.
The best part about Sincerely Jules is the beautiful photos that accompany each blog post. Sarinana includes several detailed photos of her outfits against appealing backdrops. This includes close-ups of her shoes, top, handbag, and just about every aspect of her look! It really makes you want to adopt her style.
In the case that you do want to try her outfit on, Sarinana lists all the products she wears along with a link to the shop that they come from. Just keep in mind that the clothes she wears are on the expensive side. If you're on a tight budget, you can try to find an alternative in an online thrift shop.
Outfit Ideas for Men
Although there aren't as many fashion websites dedicated to men, there are still some that stand out. These sites offer the latest men's fashion and will definitely make you want to start your style journey!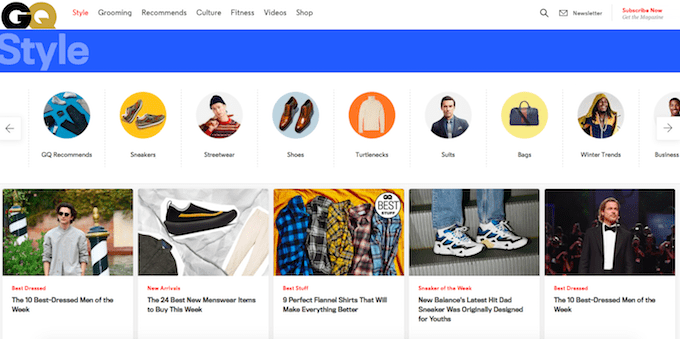 GQ is a leader in the world of men's fashion, and it offers plenty of photos for you to gain inspiration. The Style section of the site highlights fashion news, and has separate sections for specific outfits. You can choose to browse through the Sneaker, Streetwear, Turtleneck, and Suits sections among others.
Each section comes with a list of articles that give you advice and recommendations on what you should wear and when. Under the GQ Recommends section, you can browse clothes handpicked by GQ's editors. Here, you can purchase any type of clothing and accessory you might like.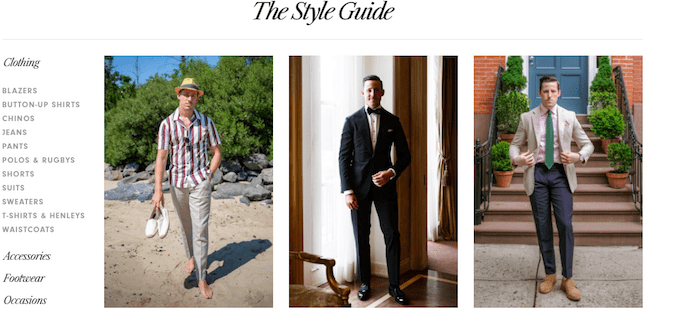 Brian Sacawa started He Spoke Style to provide fashion inspiration and advice for men. To get an idea of your next look, head to the Style Guide section. Scroll down the page to see an array of classy and stylish outfits. To get a more specific look, you can filter the page by category—choose from blazers, suits, pants, jeans, chinos, and more.
Like the Sincerely Jules fashion blog, He Spoke Style also includes several pictures in the posts. These pictures highlight every piece of the look from the shades down to the shoes. The posts give you advice about each outfit, and also come with links to the featured products.
Outfit Ideas for Everyone
If you still can't find the style you're looking for, these sites are almost guaranteed to have it. They have a ton of inspiration for both men and women, so you'll never run out of ideas.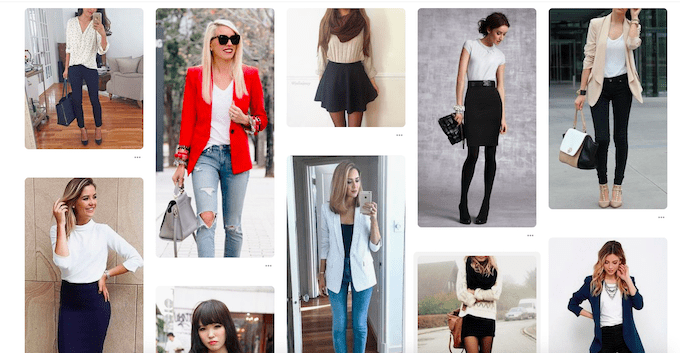 To keep up on the latest trends and get a constant stream of fashion inspiration, you need to browse Pinterest. If you're a guy, you might associate Pinterest with overflowing girliness, but that's not the case. Pinterest has thousands of fashion ideas for both men and women—you just have to use the right search terms!
Pinterest allows you to create mood boards of just about anything. This makes browsing for fashion on Pinterest even more ideal. Simply pin anything that catches your eye to save it to one of your boards.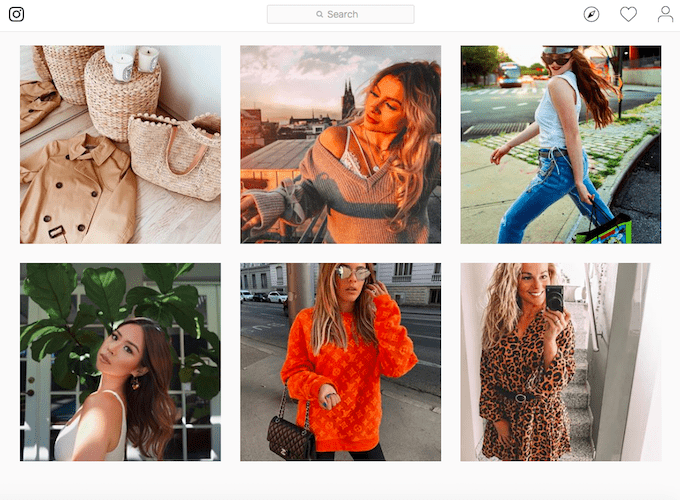 Instagram is home to dozens of popular fashion bloggers. These users typically have an Instagram profile full of their latest and most noteworthy outfits. To find someone worth following, you'll need to search through Instagram's hashtags. Try searching for more vague terms first, such as "men's fashion," "sneakers," "dress," to get the most high-quality results.
For more outfit inspiration, use the search term "OOTD." This stands for "Outfit of the Day," which showcases the user's outfit for that specific day. Better yet, it yields millions of results for you to peruse.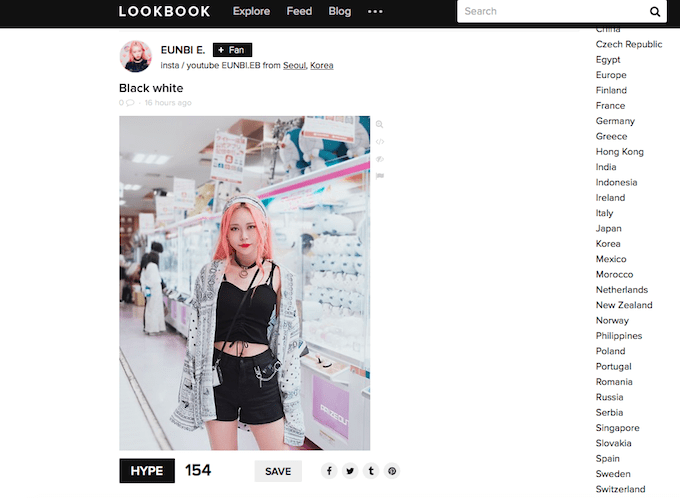 LookBook posts outfit inspiration from men and women around the world. When users post different looks, you can press the Hype button to upvote the style, or you can press +Fan to follow them. The more "Hypes" an outfit has, the more popular it is.
Expand your taste in clothes by filtering outfit ideas by country—this really give you some unique ideas. LookBook also lets you search for outfits by different styles, occasions, and clothing items. You can find just about anything from summer garb, festival wear, and even leather pants.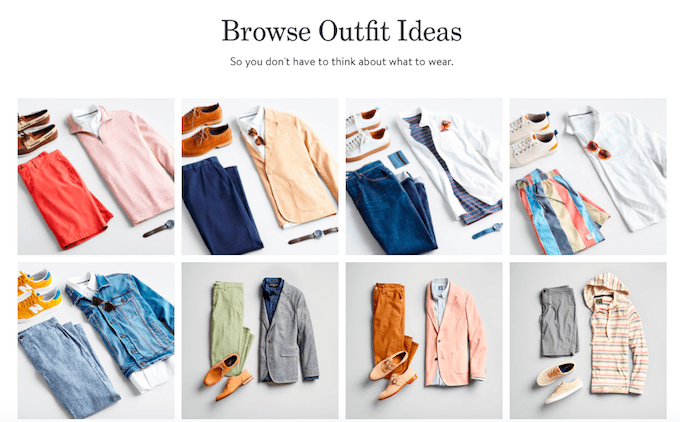 As you may already know, Stitch Fix is a clothing subscription box for men and women. However, the site also serves as a resource for style inspiration—it features separate sections for women and men's outfit ideas.
Stitch Fix has put together hundreds of outfits. Each photo has a shirt, pants, shoes, and the occasional accessory. You can't purchase the exact pieces from the site without signing up for a membership, but you can still use the site to get ideas.
Find Inspiration for Your Next Look
You don't need to constantly recycle your outfits. Sometimes it's best to splurge on a new look, especially if it makes you feel more confident. When you find yourself in need of a fresh look, just use one of these sites for fashion inspiration.
Want to try out a brand new style? These types of trendy women's fashion styles will make you want to update your wardrobe.