Fall is approaching, and it always comes upon us faster than we expect. That means it's almost time for cozy sweaters, comfy cardigans, and skinny jeans.
During this time of year, you'll also need some boots to put the finishing touches on your outfit. Toast some marshmallows in style, and check out these must-have boots for fall.
You can wear these versatile riding boots during the fall, winter, or spring. Its waterproof properties make it perfect to wear in rain or snow.
Pair these boots with leggings and a tunic for that iconic fall look. Whether you buy these boots in black, chocolate, or light maple leather, its neutral tones can match any outfit.
These stylish booties make a cute addition to any fall outfit. Although they're made out of suede, the fabric comes with protection against water, calcium, and salt, so you won't have to worry about traversing any weather condition.
Blondo's booties have a block-style heel, giving you that extra boost in confidence and style. The whipstitching on its side also give these booties a unique accent.
Want a more vintage-style bootie? These Reid booties are designed to give your outfit an artsy feel.
UGG is known for making some of the comfiest footwear, and these shoes don't disappoint—they're cushioned on the inside to provide you with the ultimate plushness. Plus, they're casual enough to wear almost anywhere.
Everyone needs a pair of combat boots for the upcoming fall weather, and you can't go wrong with a pair of Dr. Martens. This brand may have started out as a workboot necessity, but Dr. Martens boots are now a staple in any rocker chick's closet. These boots are made of shiny black leather and come with signature yellow stitching.
You can trek through any condition with these boots without having them weigh you down. Wear these boots with a black leather jacket and some ripped skinny jeans to give yourself an edgy or grungy style.
Wedge booties provide you with a casual, yet formal style. You can wear them to a fancy restaurant, or even on those days when you just want to spice up your everyday look.
These booties come in several muted tones, but they all give you a fashionable and modern vibe. Wear Lucky Brand's wedge booties with jeans for a casual look, or with tights for formal nights.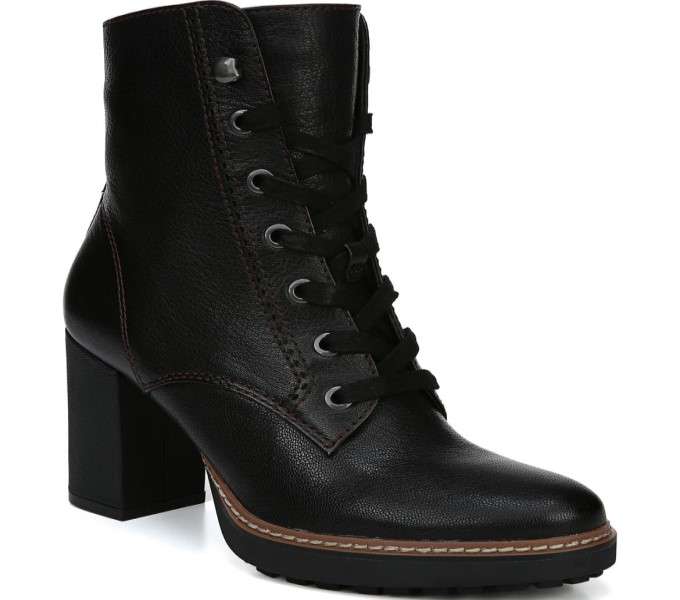 These Callie Lace-Up Boots are the perfect combination of edgy and chic. The laces, black leather, and chunky heel make it look like a stylish workboot. Wear these boots with a skirt or dress to add a tomboy accent to your outfit.
You don't have to stow your stilettos away for the colder seasons—you can wear boots with heels instead! These boots make a huge statement for any occasion. They conform to your calf and feature a stunning, thin stiletto.
Although these boots have a pointed toe and a huge heel, they're still comfortable. The cushioned insole makes it comfy to wear all day.
Do you like both wedge booties and riding boots? These boots combine the two styles into a slouchy boot that stretches up your leg. The three-inch wedge heel and slightly rounded toe can dress up any fall outfit.
If you want an effortless boot that matches pretty much everything, look no further. This classic Chelsea boot looks good with informal or business casual outfits and is comfortable enough to wear for a long period of time. Buy these boots, and you'll find yourself wearing them almost every day during the fall!
It's almost time for brisk fall temperatures, but that doesn't mean the weather will stay consistent. On the occasional warm days, break out these open-toe booties. The perforated leather, thick heel, and split sides give it a half-fall, half-summer look.
Fall Into Autumn With These Stylish Boots
Before fall comes around, you need to make sure that your closet is stocked with some stylish boots and booties. Embrace the cold weather, falling leaves, and bonfires—it's finally boot season!
Looking for some additions to your fall wardrobe that won't break the bank? Find your new favorite sweater on one of these online thrift shops.