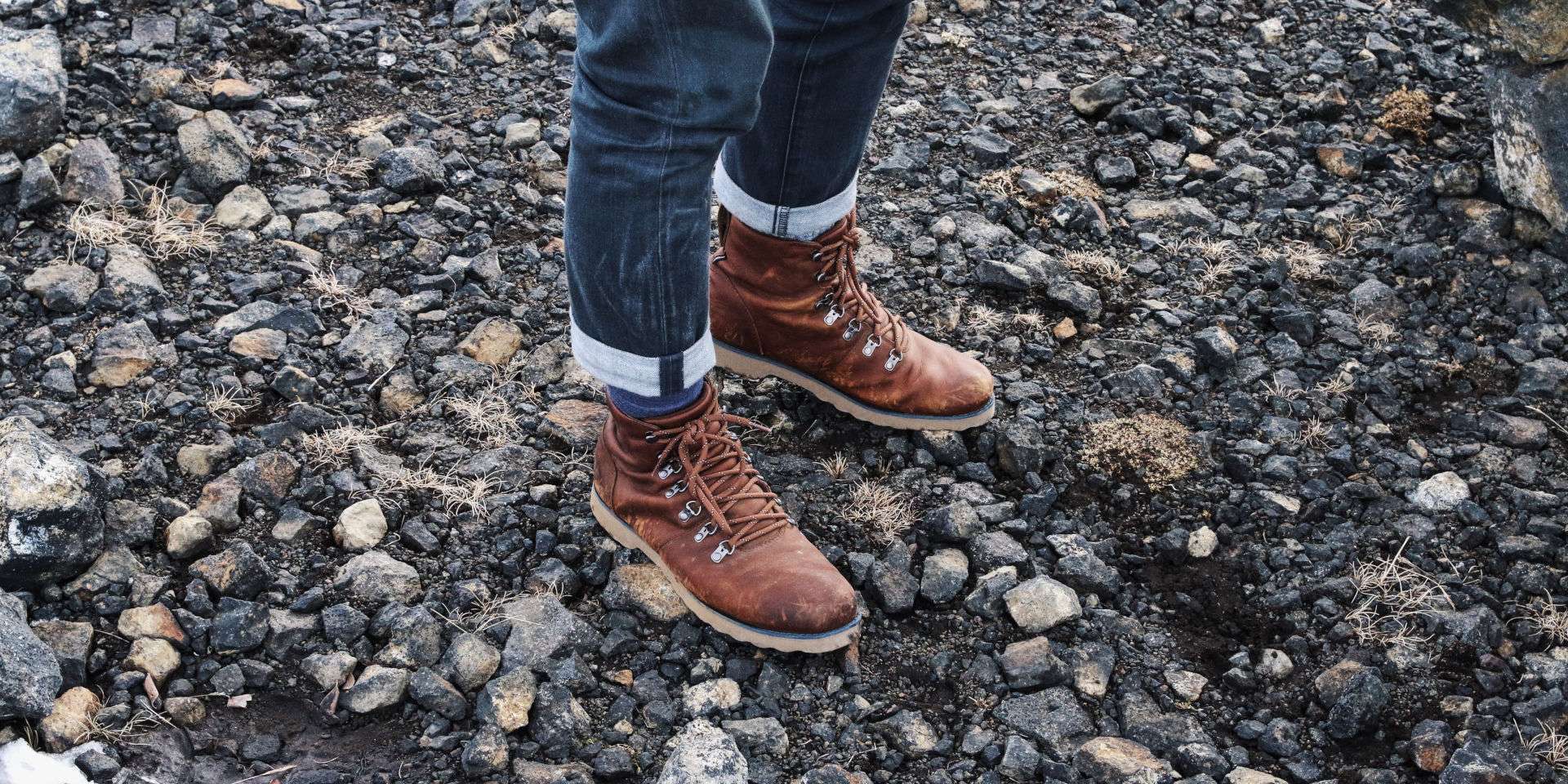 Fall is right around the corner, and that means it's time to stow away the boat shoes and break out the boots! I used to be a sneakers-only guy, but one day I decided to try on a pair of boots at a local Clarks store and fell in love with how much more like an adult they made me look. Since then, I eagerly await the fall season every year so I can get to wearing them again.
But not all men's boots styles are right for everyone. Even for myself, I mainly stick to three styles because they fit the best with my personal sense of style. So going into this list, don't feel like you need to have all of these boots styles—but I do encourage you to at least try them out at a local shoes retailer to see how they look on you. You might be surprised!
1. Chelsea Boots
Chelsea boots are laceless boots with elastic side ankles that make them easy to slip on and off as necessary. Leather chelsea boots can be worn in smart casual and business casual outfits, and polished black chelsea boots may even be able to fit into a semi-formal outfit. However, unless you have the confidence to pull them off, you may want to reserve chelsea boots for casual outings only.
2. Desert Boots
Desert boots, also known as chukka boots, are a three-season boots style best worn in the spring, summer, and fall. They only cover the ankles and don't have many eyelets, so they're extremely well-ventilated—perfect for hot and muggy weather, terrible for biting cold winters. Leather desert boots are stylish for all ages, and lean heavily toward the casual side of the formality spectrum. Wear them with jeans, chinos, or non-athletic shorts for best results.
3. Combat Boots
Combat boots, also called military boots, are robust and chunky with thick soles and lots of eyelets for tight lacing up and down. They're trendy and casual—you don't want to wear these with anything more proper than a pair of well-fitted jeans or leather pants. Best worn in the fall and winter for warmth and insulation.
4. Duck Boots
Duck boots, a style made popular by L.L. Bean's Bean boots, are iconic winter-style boots with a rubber lower section and a leather upper section. While both rubber and leather are waterproof in practice, duck boots are more robust in wet weather because rubber doesn't succumb to excess water like leather does. At the same time, the leather upper is more comfortable to wear than a full rubber boot. Duck boots are trendy, casual, and perfectly stylish for frigid winter climates.
5. Moc Toe Boots
Moc toe boots have a seam that runs around the front-top of the shoe, and they're named because the style was inspired by the design of the moccasins worn by Native Americans. Moc toe boots are surprisingly comfortable, and remain one of the most casual boots styles available to men. They're trendy, can be worn with just about anything, in any season, and are unique in that they're one of the only boots styles that come with white sole options.
6. Rain Boots
Rain boots are purely worn for practical reasons: either it's raining so much that even duck boots won't save you, or you're planning to wade through a marsh and don't want to develop trench foot. It's hard to look good in rain boots, but if you want to try your best, stick to ones that are as plainly designed as possible. Anything that doesn't draw attention to itself.
7. Work Boots
Work boots were originally designed for safety and longevity in rough working environments (think construction), but they don't have to be worn only for work. In fact, these are one of the most stylish boots options available to men. Any man can look good wearing a pair of trendy work boots paired with well-fitted jeans or chinos and a slim-fit gingham shirt. Of all the boots in my collection, my L.L. Bean work boots get the most wear—and the most compliments.